Driving and Cars
Getting a Driver's License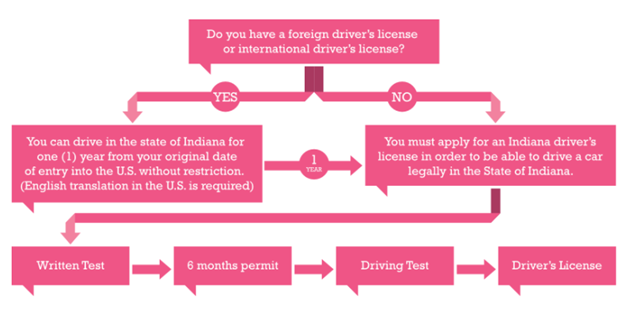 Foreign Driver's License: If you have a foreign driver's license or international driver's license, you can drive in the state of Indiana for one year from your original date of entry into the US without restriction. Please note, you must have the ID translated into English if it's not already listed.
Indiana Driver's License: To obtain an Indiana driver's license, you will need to take tests at the BMV. Please prepare the documents as required. It is highly recommended to study before the test. You will be required to take both a written and driving test.
Requirements for a Car: You are required to have a driver's license, car registration (through the BMV) and car insurance.
Required Paperwork for Indiana License
Unexpired passport
Valid visa
Form I-94 (printed)
Form I-20
Social Security Card

If you do not have a social security number, you must obtain a "letter of denial for social security number." You can get this letter at the social security office (see Social Security Number section)

Two proofs of address

Bank statement (within 60 days)

Letter from Residence life (on campus) or rental agreement (off campus)

W-2 Form (issued by employers for tax purposes based on your income)
Buying a Car
If you do plan on owning a car, generally the process goes as follows:
Have a driver's license

Please visit our website for complete information on this: Getting a Driver's License

Locate a car

If you want to check the resale value of a car, you can do so with Kelly Blue Book.
You can find a car via a private seller or through a dealership. Below are links to possible resources:

Specific Dealership (please google "Brand + Fort Wayne" to find one)
Facebook Marketplace

Pay for the car

You will be able to pay via cash or possibly loan. If buying from a person, you will need to likely pay with cash or cashier's check. If you buy from a dealership, they might have financing options.
If financing, please note you will be responsible for monthly payments, or your car may be taken back.

Obtain car insurance

All drivers are required to have car insurance. This is an additional expense that is completely required without exceptions. Some options are:

Google "Car Insurance Indiana" for more options

Register your car

You will need to go to a BMV location in order to receive a license plate and registration for your vehicle. This is required prior to driving the car on the road.

Find a BMV Branch Location (there are three around Fort Wayne)
(optional) Make an Appointment
Read about Vehicle Registration and Plates online

Make sure you check what documents will be required for this appointment.

Obtain parking permit for Indiana Tech

You will need to have a parking permit for campus. Visit Parking Permits for more information on this process.
BMV Locations
There are three locations for the BMV in Fort Wayne, which are listed below. You are able to Make an Appointment but it is not required. You will want to check the hours of operation for each location as they are different.
BMV New Haven License Branch
709 Lincoln Highway West
New Haven, IN 46774-2137
260.749.5178
Find on Google Maps
BMV Fort Wayne Pine Valley
10204 Coldwater Rd
Fort Wayne, IN 46825-2035
260.489.0690
Find on Google Maps
BMV Waynedale License Branch
6721 Old Trail Road, Suite 300
Fort Wayne, IN 46809
(260) 747-5764
Find on Google Maps
Requirements to Own a Car
If you plan on driving or purchasing a car, you must have this car registered with the BMV and you must have car insurance. Having a license, registration and insurance are three requirements by law.
If you need insurance, you can run an internet search for "Car Insurance Indiana" and start there.
Disclaimer: Indiana Tech cannot help you locate, negotiate, or pay for a vehicle. The process is unique to each car and seller, and it is important that you fully research everything on your own. It is your responsibility to be licensed, fully register your car, and have car insurance for any vehicle you own while in the United States.